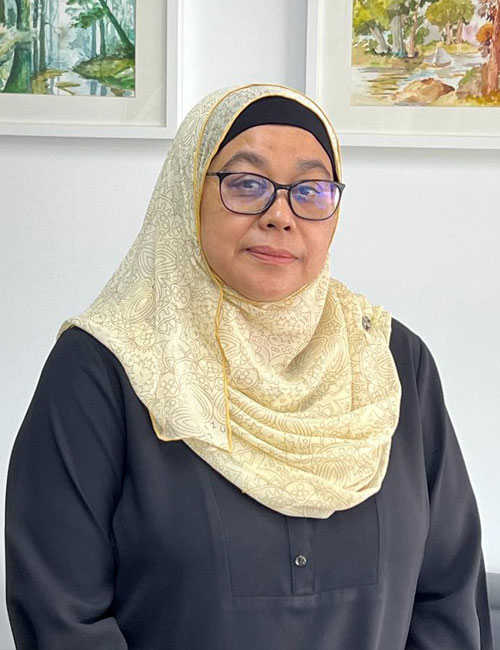 Puan Hajjah Noriha binti Embong
Executive Director, Commercial
Puan Hajjah Noriha holds a Bachelor's Degree in Quantity Surveying (Hons.) from Leeds Polytechnic, Leeds, United Kingdom. It was during this time that she completed her internship with Turner & Townsend, a leading Chartered Quantity Surveying form in the UK, which provided for invaluable work experiences.
Puan Hajjah Noriha has over 20 years of industry experience under her belt, having served in various capacities in organisations that include:
The Ministry of Housing and Local Government
The Public Works Department of Malaysia
Jurukur Bahan Bersama, a prominent local Quantity Surveying and Construction Costs Consultant
While serving at Jurukur Bahan Bersama, Puan Hajjah Noriha got assigned as the Senior Quantity Surveyor for the Sungai Buloh Hospital project. Tunas Selatan Construction had acted as the main contractor for this project, and upon completion of construction in 2005, recruited Puan Hajjah Noriha as our Contracts Manager.
Promoted to Senior Commercial Manager in 2012, Puan Hajjah Noriha was then made Director of the Company in the same year, and remains as a vital team member till today.
Puan Hajjah Noriha is also a director of the Joint Venture Company with Sime Darby Property Bhd, Sime Darby Property Selatan Sdn Bhd as well as the concessionaire companies of Sime Darby Property Selatan Satu Sdn Bhd (CA1), Sime Darby Property Selatan Dua Sdn Bhd (CA2), Sime Darby Property Selatan Tiga Sdn Bhd (CA3) and Sime Darby Property Selatan Empat Sdn Bhd (CA4).