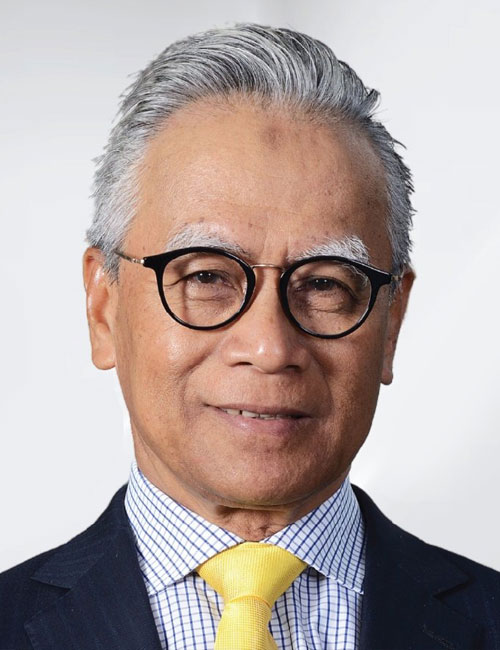 Tan Sri Dato' Sri Ar. Haji Esa bin Haji Mohamed
Executive Chairman
Tan Sri Dato' Sri Ar Haji Esa holds a Masters in Town and Country Planning from the University of Sydney. Prior to that, he completed his Bachelor of Architecture (First-Class Honours) at the University of Newcastle, Australia, where he also received the University's Gold Medal Award.
Tan Sri Dato Sri Ar Haji Esa had previously served as Chairman of Malaysia Japanese Airport Consortium, the managing consultants of the Kuala Lumpur International Airport. His own group of firms which include Akitek Jururancang (Malaysia), AJM Planning Urban Design Group and AJM Interiors are well established with an impressive track record of projects. These include the Kuala Lumpur Masterplan, Kuala Lumpur International Airport, Langkawi International Airport, Putrajaya, Desaru Destination Resorts, the town planning of Subang Jaya and Mid Valley City.
Today, Tan Sri Dato Sri Ar Haji Esa is one of the most prominent figures in Malaysia's architectural industry, having served in many associated organisations in various capacities, including:
President of Pertubuhan Akitek Malaysia (PAM) from 1993 to 1995. He is still a member of the council today
Co-Chairman of the National Professional Services Export Council (NAPSEC) under Matrade
A founding member of the Professional Services Development Corporation (PSDC)
A member of the Kuala Lumpur City Hall Advisory Board
Adjunct Professor at the International Islamic University
Council member of the International Union of Architects (UIA). Served as its President from 2014 to September 2019
A member of the Board of Architects Malaysia from 1993 to 2015
Chairman of APEC and ASEAN Architect Register Monitoring Committees
Chairman of Architects Regional Council of Asia (ARCASIA), which is a council of Institute of Architect Presidents from 16 different countries, from 1995 to 1996
Member of the APEC Architect Central Council
Director, Joint Venture Company with Sime Darby Property Bhd, Sime Darby Property Selatan Sdn Bhd as well as the concessionaire companies of Sime Darby Property Selatan Satu Sdn Bhd (CA1), Sime Darby Property Selatan Dua Sdn Bhd (CA2), Sime Darby Property Selatan Tiga Sdn Bhd (CA3) and Sime Darby Property Selatan Empat Sdn Bhd (CA4).
As a recognisable figure in the industry, Tan Sri Dato' Sri Ar Haji Esa has many accolades to his name. Among them are:
PAM Gold Medal (2016) – Lifetime Achievement Award in Architecture
President's Medal (2015) – The Royal Architecture Institute of Canada (RAIC)
President's Medal (2015) – First LAM's President Medal Award
PAM Gold Award for Kuala Lumpur Convention Centre - for Innovation, Effective & Practical Application of Architecture
Conferred Honorary Doctor of Architecture by the University of Newcastle, NSW Australia in 2005